Yozo UKITA Exhibition

April 8 Fri. - April 23 Sat. 2016
GALLERY CLOSED ON SUNDAY and MONDAY.
GUTAI (GUTAI Art Association) was established in 1954 with young artists from Kansai (West Japan) region as its central members. During 1950s, performing art and installation were seen with eyes of the novelty, and it was hard to be regarded as a respected piece of art.

Recently, GUTAI has been actively re-evaluated internationally along with other Japanese arts from 1950s to 1970s. The major GUTAI exhibition in February 2013 at Guggenheim NY was a big success.

Symbolized with the word "Do not immitate" by GUTAI leader Jiro YOSHIHARA, artists of GUTAI denied usual expressions and materials and explored new artistic expressions.

In this exhibition, we are presenting oil paintings by former GUTAI member Yozo UKITA.
~~

Words of Yozo UKITA

A human being is a mass of sorrow.
With the realization of this philosophy,
I create works of art that have a stance.
These crearionsare explicitly from "life" uncalculated by thought.
I think that the creation of these works is a proof of life,
the true toil and understandingof a human life
tha should be lived to the fullest.


I as a 'Thing'
Shoichi HIRAI

It can perhaps be said that UKITA interreted the mind-matter dualism in the GUTAI Art Manifesto more expressively than YOSHIHARA.
In this sense, UKITA is truly "an authentic GUTAI member" in views on art as well as in expression.
Furthermore, UKITA was a transmitter of GUTAI's core idea of self-realization through art.He passed ot on to future generations, who knew no realities of the group, through his art studio 'Atelier Ukita', founded in 1985 with his wish to give the joy of self-realization through making art to disabled people, children and senior citizens.

Quotes from "YOZO UKITA ART WORKS" (Published 2015 from Livre TOFOUN)

~~
■Yozo UKITA (1924-2013)
Ukita was born 1924 in Osaka. In 1955, he joined the Gutai group led by Jiro Yoshihara. He left Gutai in 1964.He died 2013 at the age of 89.
---
◆Yozo UKITA Exhibition work list
No.

Image

Title
Catalogue
No.
Date
Medium
Measurement
Sign

1

"Two Lines"
5-2-11
1999
Oil and acrylic paint on canvas
92.0×70.0cm
Signed

2

"Scatter"
6-53
2005
Acrylic paint on canvas
103.5×100.0cm
Signed

3

"Please open"
6-50
2005
Oil and acrylic paint on canvas, hemp cloth
136.0×73.0cm
Signed

4

"Black False-Teeth"
7-4
2008
Oil and acrylic paint on canvas, hemp cloth
60.0×116.0cm
Signed and stamped by
Mrs. UKITA on the back

5

"TOP"
7-80
2012
Oil and acrylic paint on canvas, hemp cloth, board
95.0×101.0cm
Signed

6

"Michael Jackson"
7-99
c.2012
Oil and acrylic paint on canvas
199.0×97.5cm
Signed

7

"Scroll"
Oil and acrylic paint on canvas
130.5×95.0cm
Signed
For prices and further details on works above, please contact us via e-mail or our inquiry form with your name, work's title and your contact details.

●Catalogue of works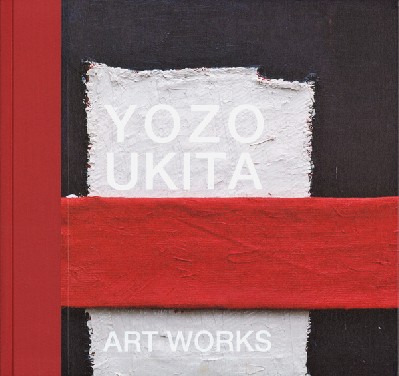 "YOZO UKITA ART WORKS"
2015
Published by Livre TOFOUN
316 pages
25.7×27.2cm
Text in Japanese and English
JPY 10,000- + Shipping charge
Gallery View