Photographers of Japan
Vol.10 "The city observer's gaze Akihiko HIRASHIMA (1946~)"
by Kotaro Iizawa (Critic and historian of Photography)
Akihiko Hirashima was born in Tateyama, Chiba Prefecture in 1946. After graduating from Waseda University School of Political Science and Economics in 1969, he entered Mainichi Shimbun Company to work in the Western Head Office's Photography Department , then later settled in the Press Photography Department. His contemporaries included Kazuo Nishii, who would become the final chief editor of Camera Asahi, and Fujio Watanuki, the director of Gallery Toki-no-Wasuremono. In his Waseda years Hirashima was a member of the Waseda University Photography Club, famous among the student photography groups, and after entering Mainichi Shimbun he honed his craft at magazine shoots.
Among his representative works from his time at the Press Photography Department was "Map of Tokyo 1945", which was published as a series of 12 parts in Mainichi Graph (Oct. 27 1985 ~ Jan. 26 1986). In 1986 the series was published by Chikumashobo as a book, with essays written by Kazuo Nishii; in it, Hirashima wanders the margins of Tokyo - Asakusa, Azabu/Mita/Shiba, Meguro/Shinagawa, Hongo/Yanaka/Ueno - and uses photos to retrace "the city's memory". A following book, "Map of Tokyo 1945 - Cont." was published in 1987 with photos from his wanderings into further suburbs, from Kameido/Kinegawa/Koiwa to Higashimurayama/Tachikawa.

This series is currently displayed as a part of the Tokyoscape: Into the City exhibition (Jul. 21 2018 ~ Oct. 21 2018) held at the Setagaya Art Museum - when revisiting these works, you can see how the nature of Hirashima's gaze as a city observer gradually stands out. These photographs survey the suburbs of Tokyo as they swelled in the bubble economy of the late 1980s; a landscape in which the old streets and rows of houses from the prewar period were continually torn down and lost - "town killing" in the name of "development". When facing this spectacle, Hirashima does not to infuse it with emotion, but rather maintains his silent distance, recording it with a wide angle lens. What draws his attention in particular are the details of the city - not only the visual info but the textures as well; as it were, it almost makes the viewer feel like a tagalong to Hirashima and Nishii's wandering of Tokyo. The heightened contrast of black and white can be considered characteristic of Hirashima's technique, the way his photography draws closer to the realm of shadows.

From 2000 Hirashima moved his activities from photography to editing and published the notable volumes "Tsuneichi Miyamoto - Collected Diaries" (Mainichi Shimbunsha 2004) and "Personal Showa History Kineo Kuwabata Collected Photos" (Mainichi Shimbunsha, 2013). "Tsuneichi Miyamoto - Collected Diaries" (set of 2 volumes and 1 extra volume), which compiled the massive collection of photographs by the folklore scholar, was awarded the 17th Society of Photography Award in 2005. It goes without saying that these volumes Hirashima authored were built upon the abilities he gained in his years as a photographer, his detailed power of observation and ability to draw information from subtle aspects of images.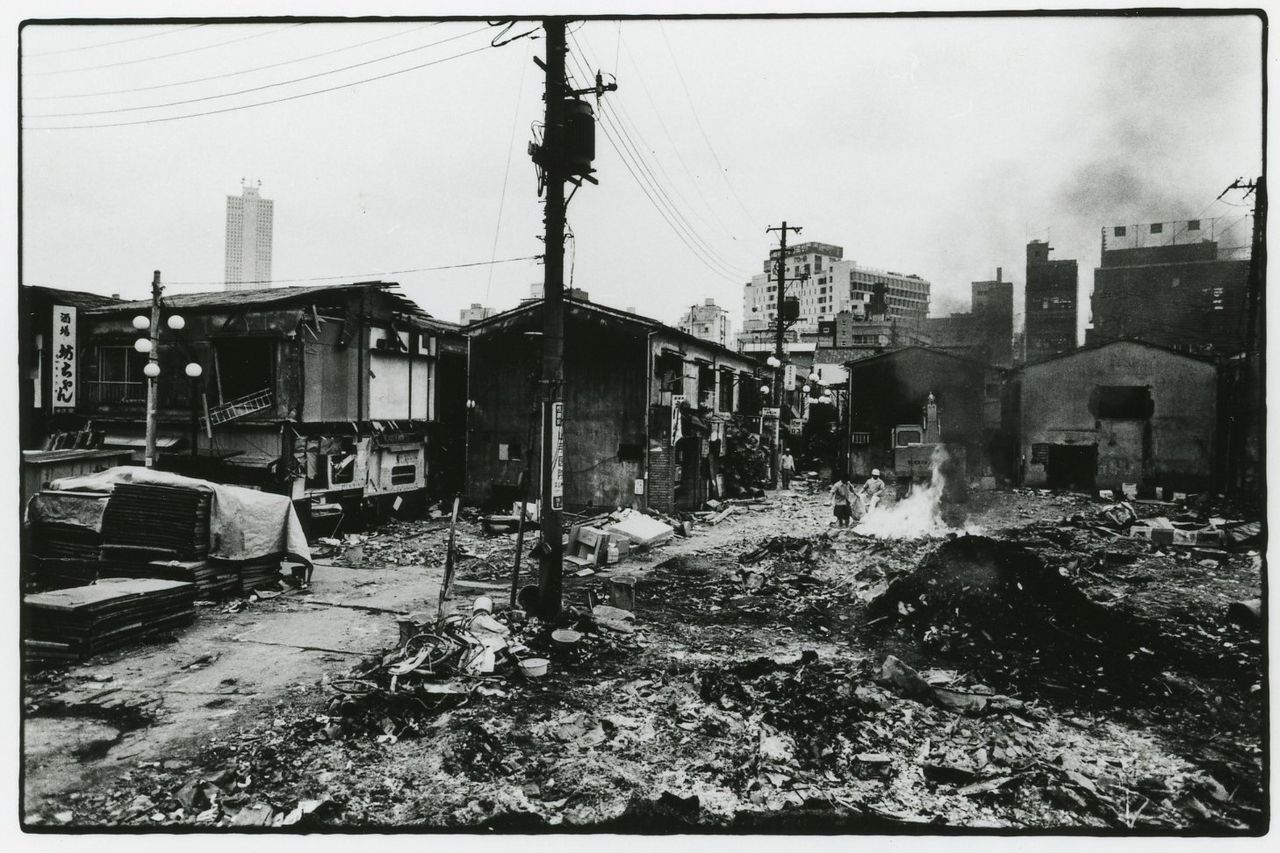 平嶋彰彦
"池袋二丁目・百軒店の取り壊し"?
1985年
ゼラチン・シルバー・プリント
19.0 × 29.0(cm)
≪所蔵 世田谷美術館≫

---
Backnumber
Vol.16 "Ogawa Takayuki (1938 - 2008) 窶・explorer of 窶徭hape窶・through photography"
Vol.15 "Kitai Kazuo - Capturing 窶彗 scene I once saw窶ヲ窶・
Vol.14 "Kazama Kensuke"
Vol.13 "Narahara Ikko - Double Vision"
Vol.12 "Q Ei and photo dessin"
Vol.11 "Fukuhara Shinzo 1883-1948 -- Japanese Landscape Photography"

Vol.10 "The city observer's gaze Akihiko HIRASHIMA (1946~)"
Vol.9 "Hitoshi FUGO 1947- -- The unusual world of works which fuses thought and technique"
"ETSURO ISHIHARA - THE EXTRAORDINARY GALLERIST WHO TURNED PHOTOGRAPHY TO ART"

Vol.8 "Iwata NAKAYAMA (1895-1949)"
Vol.7 "KISEI KOBAYASHI (1968-)"
Vol.6 "Tamiko NISHIMURA (1948-)"
Vol.5 "Shigeo GOCHO (1946-83)"
Vol.4 "Shoji UEDA -Locality open to the world-"
Vol.3 "Yu OGATA, ICHIRO OGATA ONO -Dyslexia's picture of the world-"
Vol.2 "Eikoh Hosoe's theatrical imagination"
Vol.1 "maroon" -- Whereabouts of new works by Hiroshi Osaka
---
Kotaro IIZAWA

Born 1954 in Miyagi prefecture, Japan. Iizawa is a Japanese photography critic, historian of photography, and magazine editor.
He studied photography in Nihon University, graduating in 1977. He obtained his doctorate at University of Tsukuba in 1984. With his trilogy, "Geijutsu shashin to sono jidai (Art Photography and its Time)", "Shashin ni kaere (Go back to the photography)" and "Toshi no shisen (Glance of the City)" published in 1986, 1988 and 1989, he stood out and became the representive photography researcher of the early 20th century. Iizawa founded magazine "Deja-vu" in 1990 and was its editor in chief until 1994. He has been taking part as a judge in public competitions "Shashin-shinseiki (New Generation Photography)" and "Hitotsubo-ten (3.3m² Exhibition)", since their beginning, and through these competitions made the "girly photo" trend in the 1990s.

Reknowned as Nobuyuki Araki researcher. In 1996, he was awarded the Suntory Arts Award for his book "Shashin bijutsukan e yokoso (Welcome to the Photography Museum)". Also, he is an enthusiast for mushrooms and published books such as "Sekai no kinoko kitte (World's Mushroom Stamps)" and "Aruku kinoko (Walking Mushrooms)".
He was a part-time instructor at the Tokyo College of Photography in 1981, teaching Photography Artist Research. In 2004 and 2008, he was a part-time lecturer at Faculty of Liberal Arts, University of Tokyo, teaching history of photography in Japan.